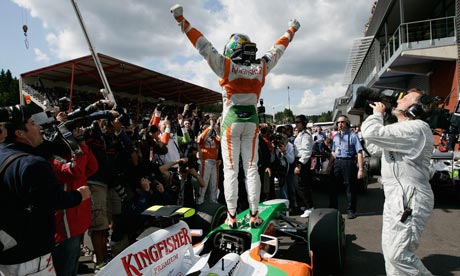 Even within the fast-changing world of Formula One, no one – least of all Giancarlo Fisichella, who claimed pole position – could explain an extraordinary turn around as the favourites struggled and the front of the grid for today's Belgian Grand Prix was filled with teams noted only for mediocrity this season. With just one exception in the 11 races thus far, Fisichella's team, Force India, had qualified outside the top 10.
The first-ever pole for Force India was challenged by Jarno Trulli (Toyota) and Nick Heidfeld (BMW), currently lying eighth and 13th in the championship, a timely result for three teams whose futures are far from secure thanks to a notable lack of success in 2009.
The championship favourites, Brawn and Red Bull, were left scratching their heads as Rubens Barrichello became the only title contender to reach the top six.
Barrichello qualified fourth ahead of Red Bull's Sebastian Vettel and Mark Webber (8th and 9th), Barrichello's performance exacerbating team-mate Jenson Button's frustration after the Brawn driver managed no better than 14th, the worst qualifying result of the season for the championship leader.
The trouble was caused by the longest and most technically difficult track on the calendar. The 4.33 miles of Spa‑Francorchamps combines a predominant mix of high and medium speed corners, a combination that calls for a different set-up to the cars. In simple terms, the leading teams appear to have confounded themselves whereas Force India, in particular, found the sweet spot necessary to make a difference measured only in tenths of a second.
Luck, as ever, plays a small part, although the bizarre nature of Fisichella's good fortune was in keeping with winning his fourth pole position and his first for three years.
"I hit a rabbit during morning practice and damaged the front wing," Fisichella said. "My mechanics said: 'In England, rabbits are good luck.' Maybe they're right! I didn't expect to be on pole position. We had a few problems and the car was better than expected. It's amazing, fantastic; I'm so happy about this."
Button had the opposite reaction after qualifying 10 places behind Barrichello, his closest challenger in the championship. "This makes my race really difficult," Button said. "The rear of the car was moving around and I had no confidence when braking. It's not good to be this far behind Rubens. Scoring no points would be a disaster for me."
Button is the only driver to have scored points in every race so far but a repeat of Barrichello's win in Valencia last weekend would reduce Button's 18-point lead, particularly if the Englishman has the expected difficulty in reached a point-scoring place in the top eight.
"I think this is the biggest surprise of the year and it's very difficult to understand the reason behind it," Barrichello said. "But it's fantastic for Formula One. I'm happy that I was able to put in a good lap and I'm happy for Fisichella; it shows that the old drivers are still on top of their jobs. I'm maybe not as competitive as Valencia but I've still got a good car. There's a chance that I could win again but we need to try and understand why the others were fast. By that I mean, were they fast for just one lap or can they do that for a race distance? I want to maintain the momentum from Valencia and see where it takes me."
Vettel and Webber were expected to close down the championship lead by, at the very least, qualifying ahead of the Brawn drivers on a track better suited to Red Bull. "This is not what we expected at all," Vettel said. "I went wide at the corner leading on to the back straight and lost a lot of speed. It was totally my fault and I think I could have been a bit higher on the grid. The circuit is quite long here and there are a lot of high-speed corners, so it's a surprise to see the times so close."
Vettel and Webber were split by just two hundredths of a second, but Webber was more concerned about the names ahead of Red Bull.
"The other guys were just too quick for us," Webber said. "A lot of people – including us – were surprised to see that happen. We had a good day on Friday, made our usual preparations and thought we would be OK in qualifying. But you just never know in this game. This is supposed to be a Red Bull track but, so far, it's not. It's been a really bizarre qualifying."
Lewis Hamilton, although not expecting to set the outright pace in his McLaren, was similarly perplexed after qualifying 12th, three places ahead of his team-mate, Heikki Kovalainen. "I really can't explain this," said Hamilton. "It's not like we're driving badly."
The publication of post-qualifying weights offered some consolation for the favourites. Fisichella's Force India was running with the a light load of fuel, unlike Trulli and Heidfeld, who are poised to continue the element of surprise by fighting for the lead this afternoon.