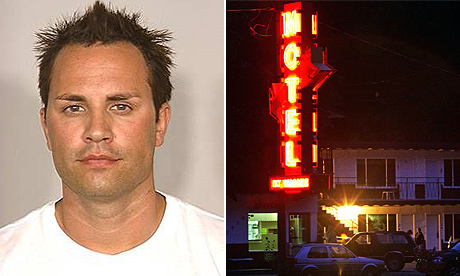 A week-long international manhunt for a reality TV contestant suspected of having murdered his former wife has ended in a gloomy motel in a small town in British Columbia where his body was found hanging yesterday morning.
Ryan Jenkins made his name on the fringes of celebrity afforded by cable TV shows, appearing on VH1 in Megan Wants A Millionaire, in which he competed against other well-to-do men to win the affections of a model. But his greatest fame was achieved only in the past week, for much darker reasons.
Last Tuesday he was named as a person of interest in the murder of his ex-wife, a swimwear model called Jasmine Fiore. They met in Las Vegas in March while Jenkins was filming Megan Wants a Millionaire and married in the city shortly after taping ended.
The couple soon fell out, and according to Fiore's mother, Lisa Lepore, the marriage was annulled. But they are reported to have got back together in recent weeks.
Fiore was last seen on 13 August when she and Jenkins took a room in a hotel in Del Mar, California. Jenkins checked out alone the following morning, and Fiore's body was discovered a day after that in Buena Park about 20 miles south-east of Los Angeles.
The body was discovered crammed inside a blood-soaked suitcase by a man searching for recyclable objects. The victim had been beaten and the fingers and teeth had all been removed from the body - presumably to hinder identification. Fiore was eventually identified by forensics detectives by tracing the serial number on her breast implants.
Last Thursday Jenkins, 32, was named by police as the only suspect in the case and charged with first-degree murder. But by then he was already on the run towards the north in a desperate attempt to avoid capture.
Authorities picked up his scent in Blaine, Washington, just south of Canada, where they found his car and an empty speedboat, called the Night Ride Her, which he had used to travel towards the border. He was believed to have crossed into Canada, the country of his birth, on Wednesday, probably on foot.
On Thursday, the day he was formally charged, he was believed to have checked into The Thunderbird Motel in Hope, a small town of about 8,000 in British Columbia, about 75 miles east of Vancouver. The motel is described as a "dive" by neighbours, bookable by the month.
Police are now searching for a woman who booked a room for three nights while a man remained in a car outside. Jenkins's body was found hanging in the room yesterday morning, and his death is being treated as a likely suicide.
A spokeswoman for the Californian district attorney's office in charge of the investigation told the Calgary Herald that the death of Jenkins was regrettable. "It's very unfortunate for Mrs Fiore's family who not only have lost their loved one but now don't get to see justice in court."
But Jenkins's mother, Nada Jenkins, told the newspaper that she still believed in her son's innocence. She said: "I think he panicked, my little boy, and we had to protect him even now that he's dead."
Question marks now hang over the editorial judgements of VH1 over its reality TV shows. Jenkins, who had made his money in property deals in Calgary, was also due to appear in another VH1 series, I Love Money, scheduled to run early next year.
Jenkins had a record of assault on another unnamed woman, and was charged in June with "battery constituting domestic violence" over an incident in which he allegedly hit Fiore on the arm shortly after they were married.
The production company that made Megan Wants A Millionaire, 51 Minds, said it was unaware of Jenkins's history of violence when it cast him.
• This article was amended on 25 August 2009. The original said that Ryan Jenkins's body was found in a remote part of British Columbia. This has been corrected.