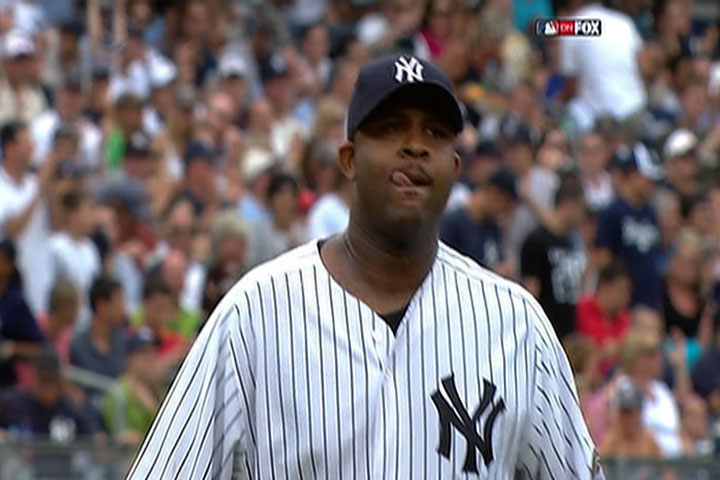 NEW YORK -- CC Sabathia signed on for the big East Coast dollars expecting to loom large as the ace of the Yankees' rotation. Amid tantalizing glimpses of that potential, he expressed confidence that the best was still to come.
If Saturday provides any indication, the Yankees have plenty to be excited about down the stretch. Sabathia hurled 7 2/3 outstanding innings and Derek Jeter homered as the Bombers shut down the slumping Red Sox with a 5-0 decision at Yankee Stadium.
New York's sixth straight victory increased its advantage to 5 1/2 games over Boston in the American League East, with Sabathia successfully following A.J. Burnett's lead over 7 2/3 scoreless innings on Friday. That dominant 1-2 punch was just what the Yankees envisioned, and certainly no surprise.
"No question, because they did it against us," Jeter said. "Those guys are power pitchers and they're capable of shutting a team down. When they throw like this, I'd put them up there against an All-Star team."
Boston would have to suffice on this August afternoon, and Sabathia handled the assignment with aplomb, striking out a season-high nine and handcuffing the Red Sox to just two hits in what plays as his signature performance thus far in pinstripes.
"For me, every game is important, but these games in our division against Boston are big," Sabathia said. "I don't approach any start any different. I go out and try to help the team win. Today, it just so happened to be on a big stage."
Sabathia retired the first 13 Red Sox he faced before David Ortiz worked a one-out walk in the fourth inning. Still holding a no-hitter intact, the left-hander worked two outs into the sixth inning before Jacoby Ellsbury broke up the bid with a solid single to center.
"I think everyone knows when you're throwing a no-hitter," Sabathia said. "It would be crazy for me to say it wasn't on my mind, but I was just trying to get outs and get the team back in the dugout."
Striking out a season-high nine and walking two, Sabathia got the benefit of a big double play to end the seventh inning, as Jeter hung tough on Kevin Youkilis' hard slide, firing to first base in time to nail Mike Lowell.
No Boston runner advanced past second base and Sabathia left to a standing ovation from the sellout crowd of 48,796 following his 123-pitch effort.
"It was unbelievable. I had goose bumps walking off," Sabathia said. "To be in a big series, playing Boston here in New York, it was unbelievable to get that kind of ovation."
And it was deserved after Sabathia delivered just what the Yankees needed, having pieced eight innings of relief out of their bleary-eyed bullpen to beat Boston on Alex Rodriguez's 15th inning homer earlier in the morning.
The Yankees have now held the Red Sox scoreless for a remarkable 24-inning span -- the longest scoreless stretch for Bombers hurlers since a 24-inning stretch over four games from June 17-22, 2003. New York starters are 3-0 with a 1.77 ERA in this series.
"It's not an easy task," manager Joe Girardi said. "You have to make a lot of good pitches to be able to do that. Our pitchers have done a wonderful job. You just hope that you can continue to do it against a very tough club."
After Sabathia's exit, Phil Hughes struck out Nick Green swinging and Dave Robertson worked around two singles in the ninth to secure the game, which Jeter said he thought was the $161 million ace's finest performance thus far.
"Probably, considering who he was throwing against," Jeter said. "Boston has a good offensive team that can beat you and they've got a lot of different weapons. I would have to say, as good as he's been, I can't think of any time he's been better."
"That's what he got paid for," Yankees catcher Jose Molina said. "He's ready for that. He's not a quitter. He wants the ball every time."
New York got to Red Sox starter Clay Buchholz for two runs on six hits in six innings, as the right-hander walked five and struck out three. Mark Teixeira touched Buchholz for a RBI single in the third inning and Robinson Cano's double started the sixth inning, scoring on Molina's sacrifice fly.
Boston reliever Ramon Ramirez was ejected in the seventh inning after burying a 93-mph fastball in Alex Rodriguez's upper back. Home-plate umpire Jim Joyce warned both teams, serving as caution in a series after rookie Mark Melancon hit Pedroia on Thursday.
"I think it was probably a wise thing to do," Girardi said. "Not that we were going to do anything about it, but I think they just don't want anything to escalate."
Rodriguez scored New York's third run on Nick Swisher's bases-loaded walk against Enrique Gonzalez, and Jeter belted a two-run homer to right field in the eighth as the Yankees prepared for a possible four-game sweep of the Red Sox -- putting any thoughts of their earlier 0-8 showing well in the past.
"You can't change anything that happened earlier in the year," Jeter said. "We know it's a good team, but if you go out and play well, we feel as though we can beat anybody."