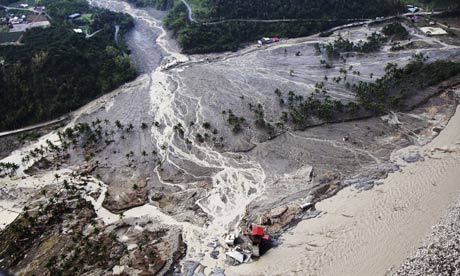 The death toll from typhoon Morakot is expected to be more than 500, Taiwan's president said today, as hope faded for hundreds of people still trapped by mudslides.
Ma Ying-jeou gave his estimate at a national security meeting, a presidential aide said, after Taiwan was struck by the worst floods in 50 years. The official number of deaths stands at 117 so far.
Ma, who came to power more than a year ago, has come under pressure amid criticism of the government's emergency response.
"As one of the victims said the other day, 'I voted for you, but now I can't even reach you'," said Lin Chong-pin, a strategic studies professor at Tamkang University in Taipei. "So there's a big drop in satisfaction with his performance."
Morakot triggered widespread mudslides, smashed houses and cut roads and bridges in southern Taiwan when it struck last weekend. Relief workers are trying to rescue 1,900 villagers still stranded and officials said as many as 400 people may have been buried in mudslides in the worst-hit village.
Authorities have given up hope for those buried under tonnes of mud in Shiao Lin, which is inhabited by the Pingpu tribe of aborigines, said the Kaohsiung county chief, Yang Chiu-hsing, said. A memorial park would be built on the site, he told reporters.
The island's official death toll does not include the estimated 400 people buried in Shiao Lin. A total of 15,400 people have been rescued since more than 2,000mm (80in) of rain fell during the typhoon, the disaster relief centre said.
Survivors were hauled to safety one by one along a 100-foot long cable by rescue workers yesterday. Soldiers in fatigues and heavy gloves resorted to using a makeshift cable to move people from the village of Sinkai over the Ba Si Lan river, where a bridge was destroyed.
"It rained for days," Li Wen-chuan, 68, told the Associated Press. "But the flood came so suddenly and with a tremendous roar. It destroyed everything in the village."
"This is the worst thing that has ever happened to me," he said, adding that many of the 32 who died in his village were friends and family. "My life will never be the same."
Rescuers have relied on helicopters and authorities requested larger craft from foreign governments capable of carrying earthmoving equipment and shelters. Many villagers have conducted their own rescue operations. More than 20,000 troops have joined civilian workers on rescue, cleanup and rehabilitation work.