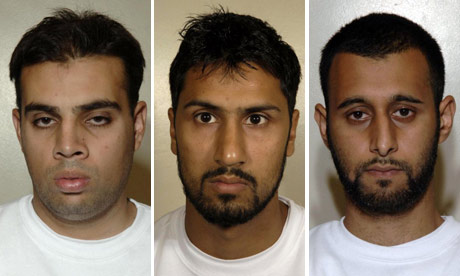 The ringleader of a British terrorist cell that planned to blow up at least seven transatlantic flights from London, murdering more than 1500 people, was jailed for life today.
Abdulla Ahmed Ali, Assad Sarwar and Tanvir Hussain were found guilty last week of conspiracy to murder by detonating liquid bombs on airliners flying from Britain to North America. Mr Justice Henriques ordered Ali, the self-confessed leader of the plot, to serve at least 40 years in prison. Sarwar, 29, was given a minimum sentence of 36 years and Hussain a minimum of 32 years.
Henriques said the men were guilty of "the most grave and wicked conspiracy ever proven within this jurisdiction".
"The intention was to perpetrate a terrorist outrage that would stand alongside the events of September 11 2001 in history," he said.
The plan involved putting liquid explosives into empty bottles of Lucozade and Oasis, colouring the liquid so it appeared to be the same as the original. The bombs would have bypassed airport security, and tests by government scientists showed they were capable of blowing a hole in the skin of an aircraft.
The investigation and trials are estimated to have cost £35m. Uncovering and ultimately destroying the cell, based in east London and High Wycombe in Buckinghamshire, was the biggest counter-terrorism operation in UK history, involving hundreds of police officers and MI5 agents.
Another man, Umar Islam, 31, was found guilty last week of an alternative charge of conspiracy to murder. The jury was unable to reach a verdict about his involvement in the airline plot. He was also due to be sentenced today.
The Director of Public Prosecutions, Keir Starmer, is seeking a retrial of three other men on charges of conspiracy to murder. The jury cleared Ibrahim Savant, 28, Arafat Waheed Khan, 28, and Waheed Zaman, 25, of involvement in the airline plot but failed to reach verdicts on the conspiracy to murder charges.
All of the men who stood trial, bar Donald Stewart-Whyte, who was acquitted of all charges, were previously tried last year. The first jury convicted Ali, Sarwar and Hussein of conspiracy to murder but stopped short of concluding that they had targeted planes. After a lengthy retrial, a new jury convicted them after 54 hours of deliberations.
The plot was disrupted on 10 August 2006, leading to chaos at airports and restrictions on the amount of liquids travellers could carry aboard, which remain in force.