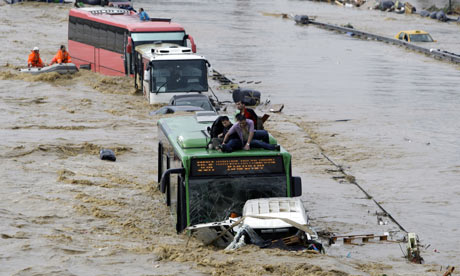 Flash floods caused by heavy rain in Turkey's largest city have killed at least 20 people and left dozens stranded, officials said today..
Seven of the victims were reported to be women who drowned in a minibus taking them to work.
The Anatolian news agency said the women's bodies were found in Bagcilar, a working-class suburb. They had been travelling to a textile factory.
The floods struck in the early hours of this morning, stranding cars on a main road linking the centre of Istanbul to industrial areas, an airport and a motorway to Greece.
Istanbul's governor, Muammer Guler, said 20 people had been killed and more than 20 injured in the floods that immersed areas of the city.
Military helicopters hovered over districts on the European side of Istanbul as motorists were forced to climb on top of their vehicles to escape the rising water.
The state-run Anatolia news agency reported that firefighters had recovered four bodies from a lorry parking area.
The deaths take the overall death toll from floods in Turkey this week to more than 28. At least eight people also died in flooding yesterday, including two in an Istanbul suburb.
The heavy rain caused two Istanbul streams to burst their banks, flooding dozens of homes and workplaces.
"We are saddened by the loss of lives," Turkey's procurement minister, Mustafa Demir, said. "There are still some people missing, and we are searching for them.
"There is huge damage to infrastructure – we need to be more careful when designing infrastructure and cities."
Rapid population has meant Istanbul – home to around 15 million people – has developed without adequate infrastructure and with poor planning.
Hikmet Cakmak, the city's deputy governor, said four helicopters and eight boats had been sent to help stranded motorists.
Footage from the private Dogan news agency showed a man stranded on top of an overturned van before swimming towards four men who caught him and help him out of the flood.
CNN-Turk showed footage of rescuers in an inflatable boat assisting a man stranded inside a van.
Authorities blocked off roads leading to the motorway, and people were being advised to avoid travelling in the area.
Meteorologists said the rainfall that hit Istanbul's Catalca suburb, where two people died yesterday had been the worst in 80 years.
More rain has been forecast for north-western Turkey tomorrow.