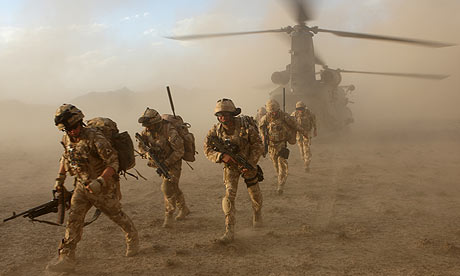 America's European allies are unlikely to commit significantly more combat troops to Afghanistan despite months of pressure from the US and Britain, officials and independent commentators said today.
The reluctance of European leaders, including Gordon Brown, to agree to deploy more of their troops, has angered Washington. However, it has come as no surprise. General Stanley McChrystal, the top US and Nato commander in Afghanistan, will have taken this into account in his major review of strategy in Afghanistan, which is now being scrutinised in the White House and at Nato headquarters in Brussels.
"I don't know where any extra troops will come from," said Alastair Cameron, head of the European security programme at the Royal United Services Institute.
He said the Europeans were keen to press for a more effective commitment to Afghanistan by the international community – a reference to the UN and other agencies, and to their potential role in developing civil authority, including an effective police force.
British defence chiefs have been pressing Brown to deploy an extra 2,000 UK troops to southern Afghanistan on top of the 9,000-plus already there. This figure includes 700 sent to provide extra security for the Afghan presidential elections last month who will now stay for the foreseeable future.
The pressure on Britain – and the US – to increase the number of troops in Afghanistan will increase if Canada carries out its plan to pull out its 2,800 troops from Kandahar province over the next 18 months.
The future of Germany's 4,000 troops in northern Afghanistan will depend on the result of the country's general election later this month. Spain could commit a further 200 troops, adding to the 1,200 deployed there, Madrid said last week.
Analysts and officials said one response to the deteriorating security situation was to deploy special forces and appropriate equipment. Bob Ainsworth, the British defence secretary, is expected to stress in a speech at King's College Londontomorrow that by next spring the UK will have doubled the number of helicopters in Afghanistan compared with November 2006.
Not all the extra troops Barack Obama has committed have yet been deployed to southern Afghanistan.
Ivo Daalder, the US ambassador to Nato, put a diplomatic face on the situation and the allies' contributions in an address on Monday to the London-based thinktank Chatham House.
Of the 100,000 foreign forces in Afghanistan nearly 40% had been provided by countries other than the US, he said.
Daalder said he was "surprised by the resilience and deep-seated support by the allies". He added: "Every Nato country is committed to sustain the course."
He also said the US wanted to see "visible progress" in Afghanistan within the next 12 to 18 months.