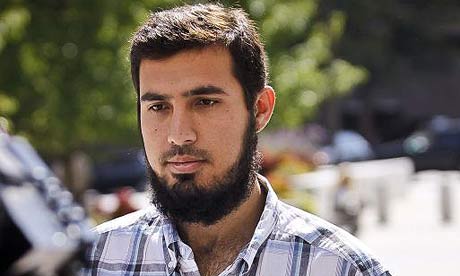 A young Afghan immigrant, Najibullah Zazi, has been charged with conspiracy to use weapons of mass destruction in what investigators suspect was a plot to bomb New York's transport system.
According to the indictment against Zazi issued today, the 24-year-old airport bus driver spent the past year plotting the attacks but in the past fortnight began "urgently" looking for help to manufacture explosives and had recently bought bomb-making supplies from beauty stores. He is also alleged to have obtained instructions on how to make explosives and made notes on them that included the specifications for the bombs used in the 2005 attacks on the London Underground and the attempt by the alleged "shoe bomber", Richard Reid, to blow up a transatlantic flight.
Zazi, who had lived in the US for 10 years, has denied the accusations. He faces up to life in prison if convicted.
According to court papers, Zazi "and others" travelled to Pakistan a year ago.
"Zazi received detailed bomb-making instructions in Pakistan, purchased components of improvised explosive devices, and travelled to New York on 10 September 2009 in furtherance of his criminal plans," court papers say.
On returning from Pakistan earlier this year, Zazi moved to Colorado where he is alleged to have rented a hotel suite this month and used the kitchen to attempt to mix explosives. FBI tests found residue of bomb-making ingredients in the vent above the stove but searches of several properties have not turned up any explosives.
Zazi and unnamed associates are alleged to have bought unusually large amounts of hydrogen peroxide and acetone products from beauty supply stores around Denver over several weeks. The papers also say that Zazi searched the internet for home improvement stores in Queens, a New York borough, and then looked to see if the store stocked another explosive component, muriatic acid.
Shortly afterwards, Zazi rented a car and drove to the city. Bomb-making notes were also found on the accused man's laptop in the car, according to the court document, including information about heating bomb components to make them highly concentrated. The court papers say that on 6 and 7 September, Zazi attempted to communicate with another person "seeking to correct mixtures of ingredients to make explosives".
"Each communication," the papers say, was "more urgent than the last."
The court papers do not specify the targets Zazi is alleged to have planned to attack but the US press has reported FBI agents as saying they believe that the New York subway train system was a likely target. They say the discovery of backpacks and mobile phones suggest that Zazi was planning an attack similar to the bombings of the London Underground and trains in Madrid.
Zazi was originally arrested in Denver with his father, Mohammed, 53, and a New York City imam, Ahmad Wais Afzali, on charges of lying to federal anti-terrorism investigators about bomb-making literature.
The New York Times reported today that investigators were forced to move against Zazi earlier than they had wished after a second anti-terrorist force indirectly tipped him off that he was being monitored by approaching the imam for assistance.
The arrests were followed by warnings of possible attacks on transit, sports and entertainment complexes.
In a memorandum prosecutors filed in court seeking to deny Zazi bail they say that he was intent to the last on carrying out an attack.
"The evidence at trial will show that Zazi remained committed to detonating an explosive device up until the date of his arrest," the prosecutors say.
The US attorney general, Eric Holder, said today that "any imminent threat" from the plot has "been disrupted".
"We are investigating a wide range of leads related to this alleged conspiracy, and we will continue to work around the clock to ensure that anyone involved is brought to justice," Holder said.
"We believe any imminent threat arising from this case has been disrupted, but as always, we remind the American public to be vigilant and to report any suspicious activity to law enforcement."