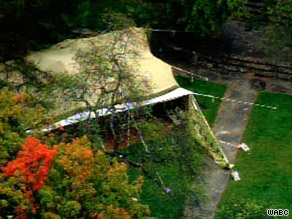 NEW YORK (CNN) -- The town of Bedford, New York, is not happy with a tent set up as part of Libyan leader Moammar Gadhafi's visit to the United States for the United Nations General Assembly, a town attorney said Tuesday. "I discussed this matter with town officials, and the town building inspector believes that this would constitute a violation of several town zoning and land use laws," Bedford town attorney Joel Sachs said. "I directed the town building inspector to immediately go to the property and issue a stop work order, which would the individuals to cease erecting the tent."
Sachs said if he had to he would take the issue to a higher court to get the tent taken down.
New York state Sen. Vincent Liebell confirmed to CNN affiliate WABC that Gadhafi had rented the property.
"He's not going to have many fans in Bedford or Westchester County, certainly not me," the senator said. "There's not going to be any welcome mat for him in Bedford."
The property is owned by the Trump Organization, which said in a statement: "We have business partners and associates all over the world. The property was leased on a short-term basis to Middle Eastern partners, who may or may not have a relationship to Mr. Gadhafi. We are looking into the matter."
County Executive Andy Spano said earlier Tuesday he had heard unconfirmed reports that Gadhafi may be staying there.
"There is no legal way to prevent this, as he is a head of state, despite the fact that he has a long history as a terrorist," Spano said in a statement. "However, from my point of view, he is not welcome in Westchester." State Department officials said there are no limitations on Gadhafi's visa that would prevent him from traveling to the area. They said their understanding was that Gadhafi was not staying at the tent, but was visiting and having meetings there. He is staying in New York, the officials said. The U.N. General Assembly begins Wednesday.
Under the Foreign Mission Act, the United States does have the right to restrict travel by diplomats to within a certain distance of U.N. headquarters, but the officials said Westchester County is within that radius.