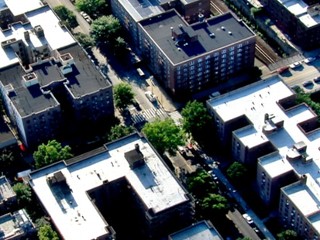 Authorities raided properties in New York City today in an effort that was intended to disrupt the plans of a terror suspect whose travels had been tracked by the FBI, according to an official briefed on the raids. "He was being watched and concern grew as he met with a group of individuals in Queens over the weekend," said Congressman Pete King (R-NY). "The FBI went to court late last night for an emergency warrant to conduct the raids this morning." A resident in the neighborhood said there was police activity around 2 a.m. Monday.
Officials said the execution of search warrants came after days of surveillance, and NYPD Commissioner Ray Kelly characterized it as part of an "ongoing investigation." Bomb making materials were not found during the raids, authorities told ABC News.
King said "there is very good reason to believe that there is a connection to Al Qaida or to Al Qaida supports." "[Investigators] would not have moved as quickly as they did if they did not believe there was real potential," King said.
The Senate Intel Committee has already been briefed on the investigation that led to the raids, according to a senior Democratic Senate aide, and members of the Senate Homeland Security and Government Affairs Committee were being briefed Monday afternoon.
Jonathan Karl , Zachary Wolf and Steven Portnoy contributed.
Click Here for the Blotter Homepage.