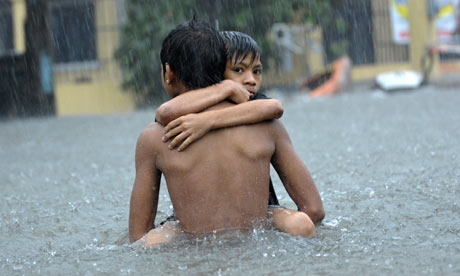 Rescuers in the northern Philippines today increased their efforts to rescue people left stranded after a tropical storm brought the area's worst flooding in more than four decades.
The government declared a "state of calamity" in metropolitan Manila and 25 storm-hit provinces after tropical storm Ketsana brought more than a month of rain in 12 hours yesterday.
The decision allowed officials to utilise emergency funds for relief and rescue, the defence secretary, Gilbert Teodoro, said.
Army troops, police and civilian volunteers have so far rescued more than 4,000 people since Ketsana brought landslides and flooding, killing at least 51 people and leaving 21 others missing, Teodoro said.
Ketsana swamped towns and closed Manila's airport for several hours.
Military chief General Victor Ibrado, accompanied by journalists, flew over several suburban Manila towns and saw many people waiting to be rescued on the roofs of their houses.
Mary Coloma, a housewife, told the DZBB radio station: "My son is sick and alone. He has no food and he may be waiting on the roof of his house. Please get somebody to save him."
Many neighbourhoods have been devastated, with houses destroyed, vans and cars overturned and streets left awash with debris and mud.
"The flooding was so grave it inundated many communities for the first time," Loel Malonzo, a provincial disaster response official, said in Rizal province, where more than 40 people drowned or were killed by landslides.
"People were trapped in their houses. Some who tried to escape were swept away by the flood," Malonzo told the Associated Press.
The 42cm of rain that hit metropolitan Manila in 12 hours exceeded the 39.2cm average for September, Cruz said, adding that the rainfall broke the previous record, of 33.4cm in a 24-hour period, recorded in June 1967.
The ABS-CBN television channel showed video footage of more than a dozen people on the roofs of damaged houses being swept away by the Marikina river.
The buildings were smashed against the pillars of a bridge, and it was unclear whether the people were rescued.
The Philippine president, Gloria Macapagal Arroyo, had to take an elevated commuter train to the disaster council office to chair a meeting because roads were clogged by vehicles stuck in floodwater.