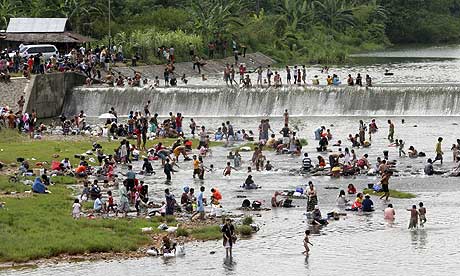 Landslides triggered by an earthquake in western Indonesia wiped out at least three villages this week, an official said today.
As many as 644 people, including a wedding party, were buried under mountains of mud and debris, according to Rustam Pakaya, the head of the health ministry's crisis centre.
If all 644 are confirmed dead, the government's death toll from Wednesday's quake would jump to more than 1,300 from the current 715.
Pakaya said the villages of Pulau Aiya, Lubuk Lawe and Jumena were completely levelled by the landslides. Four hundred people attending a wedding in Pulau Aiya were buried by a quake-triggered landslide, and 244 people were buried in the two other villages.
Rescuers searching for survivors in the Sumatran city of Padang had been spurred on by a text message received from a survivor trapped in a collapsed hotel, saying that he and some others were alive.
But hopes were fading as sniffer dogs failed to detect life.
Padang's police chief said voices and handclaps had been heard from survivors buried in the Ambacang hotel since the 7.6-magnitude quake on Wednesday and that yesterday one survivor had sent a text message to relatives.
Colonel Boy Rafli Amar told reporters today that, after more than six hours of searching, "so far rescuers have found nothing".
In remoter areas outside Padang the full scale of the disaster was only starting to become clear, with survivors drinking coconut water after their drinking sources were contaminated, Reuters reported.
"In my village, 75 people were buried. There are about 300 people missing from this whole area. We need tents and excavators to get the bodies but the roads are cut off," said Ogi Martapela, 28, who said his older brother had died in the landslide.
The aid effort appeared to be cranking up today, but it has yet to reach many areas.
Testos, an Indonesian Red Cross worker at an aid station in central Padang, said his team now had about half the supplies it needed for people made homeless by the quake. "We also need drinking water and clothes because many peoples clothes were burnt in fires," he said. "And we need medicines to stop infection."
An Australian naval vessel set sail for Sumatra equipped with a mobile 40-bed hospital with surgical facilities, and Sea King helicopters, the country's defence ministry said. More emergency teams and further aid from Britain were being dispatched to the region today.
Oxfam sent water treatment units and plastic sheeting for shelters and extra staff from its warehouse in Bicester, Oxfordshire.
A team from the British Red Cross was due to leave London's Heathrow airport this afternoon to co-ordinate the charity's distribution of aid, while last night a team from the search and rescue charity Rapid UK arrived in Padang with specialist equipment such as thermal cameras and lifting gear.
They were the first official search crew from Britain to arrive in the crisis-hit country.
Another planeload of search and rescue personnel, organised by the Department for International Development, will arrive later today to join in the effort.
Sixty-five British firefighters were grounded at Gatwick airport yesterday after a fault developed in a government-chartered aircraft. The delay frustrated British officials, who said time was running out for people trapped in collapsed buildings.
But the military stepped in and an RAF C17 aircraft is flying the search and rescue experts and 17 tonnes of aid from RAF Brize Norton in Oxfordshire to Padang.
The quake, from one of the world's most active seismic fault lines along the Pacific "ring of fire", struck with a force that shook buildings hundreds of kilometres away in Singapore and Malaysia.
The United Nations estimated that 1,100 people had been killed in the earthquake. Indonesia's disaster management agency put the toll of confirmed dead and missing so far at 809.
Rescue teams, many wearing masks to cover the stench of bodies as they worked in the tropical heat, were fanning out from Padang to some of the worst-hit surrounding areas.
Asked about rescue efforts in Pariaman, the vice-president, Jusuf Kalla, said it was now about retrieving bodies. "We can be sure that they are dead. So now we are waiting for burials," he said on Metro TV.