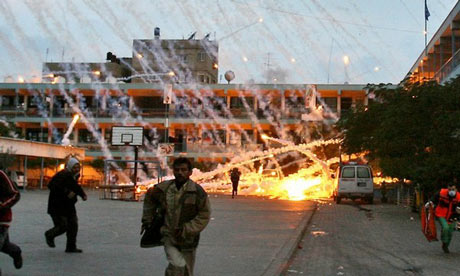 An agreement to reconcile bitterly divided Palestinian groups has been delayed for several weeks, Egypt's foreign minister said today. A deal was to be signed on 25 October, clearing the way for Hamas militants and the more moderate Palestinian president, Mahmoud Abbas, to cooperate in rebuilding war-damaged Gaza and preparing for Palestinian elections in the first half of next year. The two sides have been divided since Hamas violently seized control of the Gaza Strip from Abbas's forces in June 2007. Since then there have been rival Palestinian governments in Gaza and the West Bank. Egypt has been trying to broker a deal to reconcile the groups and push them toward a power-sharing agreement. The division has also complicated efforts to revive stalled peace talks with Israel.
Egyptian foreign minister, Ahmed Aboul Gheit, would not name the Palestinian faction that requested the delay, but Hamas said on its website it was postponing the agreement because of a much-criticised decision by Abbas to delay action on a UN report condemning Israeli attacks on Gaza.
The report, drawn up by a team of experts led by former South African judge Richard Goldstone, accuses Israel of using disproportionate force and failing to protect civilians during its winter assault on Gaza. It also calls Hamas' firing of rockets at civilian areas in southern Israel a war crime. The report recommended that the security council require both sides to carry out credible investigations into alleged abuses during the conflict – in which 13 Israelis and almost 1,400 Palestinians, including hundreds of civilians, were killed.
Israel has rejected the report's war crimes allegations. The US has called the report deeply flawed and said it disagrees with many of its assessments. Abbas was under pressure from the US to withdraw Palestinian support for having the UN human rights council forward the report to the 192-nation general assembly for possible action. Abbas's decision has been widely condemned by many Palestinians, not just Hamas.
Today, seven Palestinian groups joined Hamas leaders based in Damascus, Syria, in issuing a statement of support for the postponement of the Palestinian reconciliation deal. They called Abbas's decision to freeze action on the UN report a "crime and scandal".
The groups emphasized the importance of reconciliation but said Abbas's actions should not go "unpunished". President Barack Obama's Middle East envoy, George Mitchell, met with Egyptian officials, including the foreign minister, on Sunday in an effort to move Israeli-Palestinian peace talks forward.