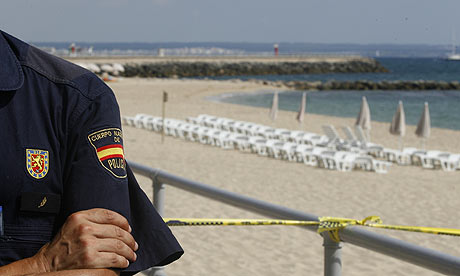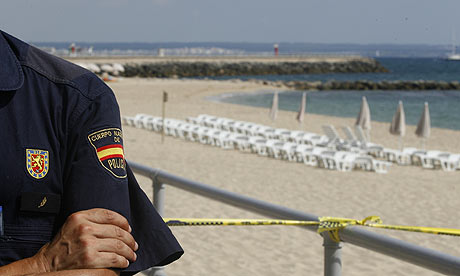 Two small bombs blamed on the Basque separatist group Eta exploded today on the Spanish resort island of Mallorca, causing no injuries.
The blasts occurred just over a week after Eta killed two police officers in Mallorca, in attacks aimed at striking fear among tourists at the height of the summer holiday season.
One bomb exploded in the La Rigoleta restaurant on the Can Pere Antoni beachfront in Palma de Mallorca, and the second in an underground passage at the central Plaza Mayor square, the government said. A third device was detonated in what media reports said was a controlled explosion by police.
A beachfront hotel in Palma de Mallorca was searched for a possible fourth bomb.
Earlier today, Eta claimed responsibility for four other bombings this summer that killed three people – including the two police officers in Mallorca on 30 July– and injured dozens more.
Spain's state-run broadcaster TVE said one of the bombs that exploded was in a beach bag hidden in the ceiling of a women's bathroom in the restaurant.
The restaurant was evacuated after two phone calls to a taxi company in mainland Spain's northern Basque region warning of the bombs, El País newspaper said. Mallorca is one of Europe's main tourist destinations. In June, about 2.6 million passengers used Mallorca airport while 22 million passed through it last year.
In past years, Eta has often targeted Spain's tourist industry with small bombs during peak summer holiday months, in an effort to disrupt trade and force the government to negotiate with it.
Spain has vowed to crush Eta since the group ended what it had said was a permanent ceasefire with a bombing that destroyed a Madrid airport parking garage and killed two people in 2006.
In a statement published today in the Basque newspaper Gara the group claimed responsibility for attacks that left three people dead and 60 injured in June and July. The attacks coincided with Eta's 50th anniversary.
In a 29 July attack, Eta said it detonated explosives packed into a van parked near a Civil Guard barracks in the northern city of Burgos, injuring 60 people.
Eta has killed more than 825 people since 1968, when it started a violent campaign for an independent Basque state.