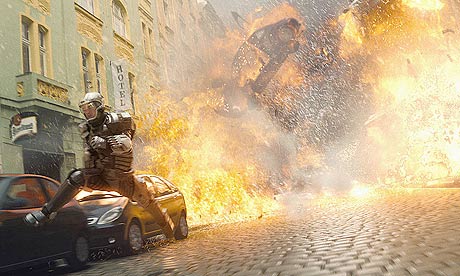 It may be preposterous but that didn't stop US and international audiences lapping up the macho action and putting 2009 back on track for a record yearThe winner
The unutterably horrible and preposterous GI Joe: The Rise of Cobra dominated proceedings with all the accompanying macho fanfare one would expect from a film with no heart based on Action Man figures. Paramount's little soldiers of fortune plundered roughly $56m (£33.6m) from their initial three-day sortie in the US and on that showing could coast past $100m before the end of next weekend. Yikes, what has the world come to? The movie pretty much smothered the competition across the globe, too, racking up just over $44m according to early estimates from the studio. Sienna Miller, Jonathan Pryce and Dennis Quaid will no doubt be thrilled with themselves, as will Stephen Sommers, who directed the first two Mummy movies and badly needs a hit after the train wreck that was Van Helsing. The coming weeks will reveal whether GI Joe has staying power to indeed become a success – the early indicators are that it has, heaven help us.The loser
Funny People may have debuted in first place last weekend but it was a shaky start and the vulnerability has come home to roost, if vulnerability is indeed capable of roosting. Universal must have thought it had a gold-plated hit on its hands with the latest Judd Apatow comedy but it was sorely mistaken. Now, the movie's really pretty good in places but suffers from a major death theme and that 140-minute running time, which is the real killer here. I hear studio executives quite rightly balked at the length, but apparently they won't argue with a rainmaker such as Apatow, so the running time remained. Let this be a lesson: audiences don't have time for long movies unless they're full of exploding robots or young wizards. Funny People's ticket sales tumbled 65% in its second weekend, managing $7.9m for a $40.4m running total, which is a serious number in a terminally bad kind of way.
The real story
GI Joe: The Rise of Cobra has saved the summer. After a string of limp performances in recent weeks, summer box office bounced back to within 1% of ticket sales from summer 2008. After disappointments such as Funny People, Bruno (currently languishing below 20th place on less than $60m after only five weekends), Year One, The Taking of Pelham 123 and Land of the Lost, now the talk is back on about the record box-office year that 2009 could become. A lot will depend on upcoming releases such as The Twilight Saga: New Moon, The Box, Shutter Island, Old Dogs, the re-releases of Toy Story and Toy Story 2 in 3D, and year-end fare such as Avatar, A Christmas Carol, 2012 and Sherlock Holmes. And let's not forget Harvey Weinstein's lavish Nine from Rob Marshall, which will be a make-or-break release for the mogul when it arrives in November. At the end of the day I believe the remainder of this year will be very strong and, for what it's worth, 2009 will set a new high in ticket sales.
The dark horse
Fox Searchlight's quirky romcom 500 Days of Summer is wearing its Sundance credentials on its sleeve and is conspicuously indie in feel. Clever Searchlight for getting the marketing right and positioning this as an alternative to all the blood, guts and starry comedies. The distributor expanded into a further 551 cinemas this weekend, raising the number to 817. The result of the steady build-up and strong word of mouth is that in its fourth weekend the movie finally broke into the top 10, with a running total of $12.3m and has a real shot at crossing $20m.
The future
Remember the mystery that surrounded Cloverfield when it came out early last year? Nobody really knew what it was about or who the film-maker was (although JJ Abrams's patronage didn't hurt) and it went on to become a bona fide hit? The same thing has been happening in recent weeks with the sci-fi movie District 9, which is produced by Peter Jackson and directed by Neill Blomkamp, the man Jackson originally hired to direct his doomed Halo adaptation. It's pretty darn good, this one, and if it catches on may become one of the sleeper hits of the summer. District 9 goes up against Warner Bros' weepie The Time Traveler's Wife starring Eric Bana and Rachel McAdams, a comedy from Summit called Bandslam, and another comedy from Paramount Vantage called The Goods: Live Hard, Sell Hard.
North American top 10, 7-9 August 2009
1. GI Joe: The Rise of Cobra, $56.2m
2. Julie & Julia, $20.1m
3. G-Force, $9.8m. Total: $86.1m
4. Harry Potter and the Half-Blood Prince, $8.9m. Total $273.8m
5. Funny People $7.9m. Total: $40.4m
6. The Ugly Truth, $7m. Total: $69.1m
7. A Perfect Getaway $5.8m
8. Aliens in the Attic, $4m. Total: $16.3m
9. Orphan, $3.7m. Total: $34.8m
10. 500 Days of Summer, $3.7m. Total: $12.3m.
Jeremy Kay Posted by Jeremy Kay Monday 10 August 2009 10.31 BST guardian.co.uk
* Print thisPrintable version
* Send to a friend
* Share
* Clip
* Contact us
* larger | smaller
Email
Close
Recipient's email address
Your first name
Your surname
Add a note (optional)
Your IP address will be logged
Share
Close
* Digg
* reddit
* Google Bookmarks
* Twitter
* del.icio.us
* StumbleUpon
* Newsvine
* livejournal
* Facebook
* Mixx it!
Contact us
Close
*
Contact the Film editor
film.editor@
guardianunlimited.co.uk
* Report errors or inaccuracies: userhelp@guardian.co.uk
* Letters for publication should be sent to: letters@guardian.co.uk
* If you need help using the site: userhelp@guardian.co.uk
* Call the main Guardian and Observer switchboard:
+44 (0)20 3353 2000
*
o Advertising guide
o License/buy our content
Film
* Action and adventure
Culture
Series
* Box office analysis: US
More from Film blog on
Film
* Action and adventure (Film blog)
Series
* Box office analysis: US
More blogposts
Related
8 Jul 2009
Harry Potter and the Half-Blood Prince is box office magic, even before release
21 Nov 2008
Film review: Body of Lies
5 Sep 2008
Quantum of Solace: a Coke Zero for you, Mr Bond?
2 Sep 2008
Do you have a question for Daniel Craig?
* Next
* Previous
* Blog home